That's right…Our Southwest Forest Products Expo is on!!!
---
PRE-RECORDED FOREST HEALTH CONFERENCE AVAILABLE FOR ARK PRO LOGGER TRAINING CREDITS
COVID-19 and Ark Pro Logger Training
As you know, COVID-19 has impacted our ability to offer in-person Ark Pro Logger training around the state. We have promoted since March several other opportunities, like virtual meetings, for participants to attend for training credits for 2020. We will be doing the same in 2021.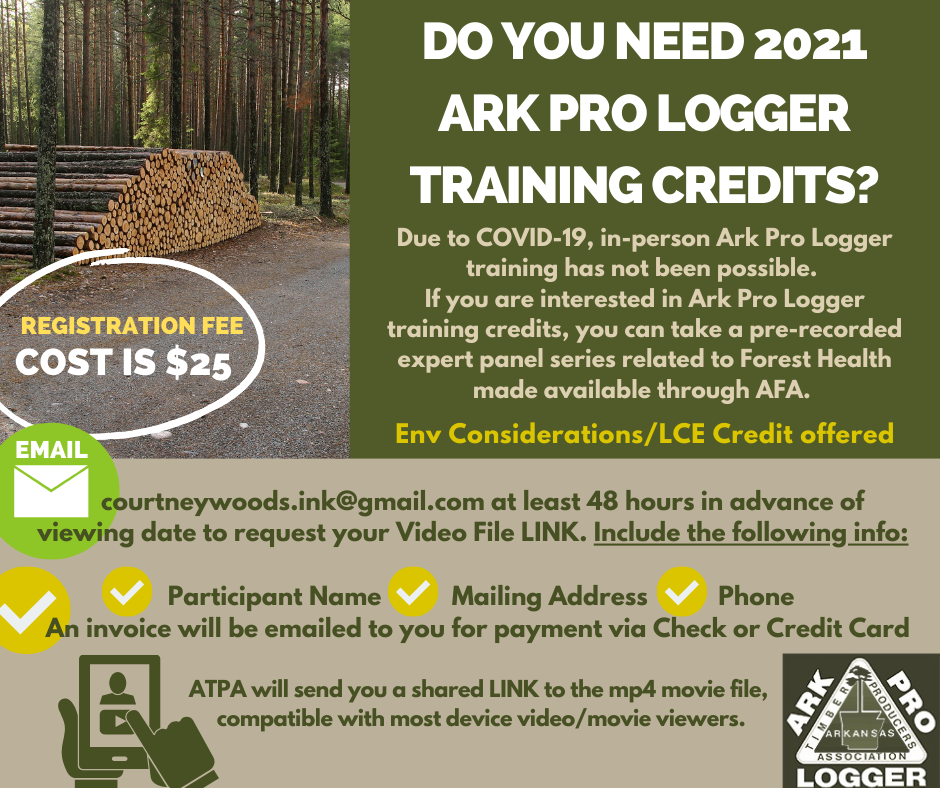 ONLINE TRAINING OPPORTUNITY
We have continued our online opportunity that fulfills this requirement, with either credits offered for one of our foundational modules, Environmental Considerations, or for Logger Continuing Education (LCE) credits for this year (2021).
Please note the ad, above, which includes instructions on gaining access to this online training link.
Note, this program is being made through the generosity of the Arkansas Forestry Association (AFA). Because AFA members paid to attend this event when it was held, in fairness, we are asking our participants to do the same. Thus, you will note there is a $25 registration cost to participate in this online, pre-recorded event.
If you have questions, please don't hesitate to contact me by email, or cell, below.
Thank you for your continued support of our training initiative and to the Arkansas Timber Producers Association (ATPA).
Arnold Hameister, Director of Logger Training
_________________________________
Director of Logger Education
Arkansas Timber Producers Association
2311 Biscayne Drive
501-224-0016 – office | 501-764-2958 – cell | arnoldatpa@gmail.com
---

This is the website of Arkansas' award-winning logger training and education initiative and the distinction earned by those logging contractors and crew members that have graduated from the program. Since its inception in 1995, more loggers, landowners and forestry professionals have participated in the Ark Pro Logger program than in any other training program of its kind nationwide.
The Ark Pro Logger training initiative is administered by the Arkansas Timber Producers Association (ATPA) and was developed for loggers by loggers. The program exudes a collective commitment of the region's timber harvesters to high standards of professionalism and represents a voluntary adherence to rigorous principles of sustainable forestry and natural resource conservation.
Company representatives, consulting foresters, and forest landowners have password-protected access to the online database participants use to confirm and monitor completion of training modules. While graduation from Ark Pro Logger does not constitute a professional endorsement or warranty of an individual or logging firm, it does serve as an industry indicator of a timber harvester's commitment to this widely upheld training effort.
Additional information and specific requirements of the Ark Pro Logger program can be obtained through this site by selecting the Training menu above, or by contacting ATPA Director of Logger Training, Arnold Hameister toll-free at 1-888-403-2232.