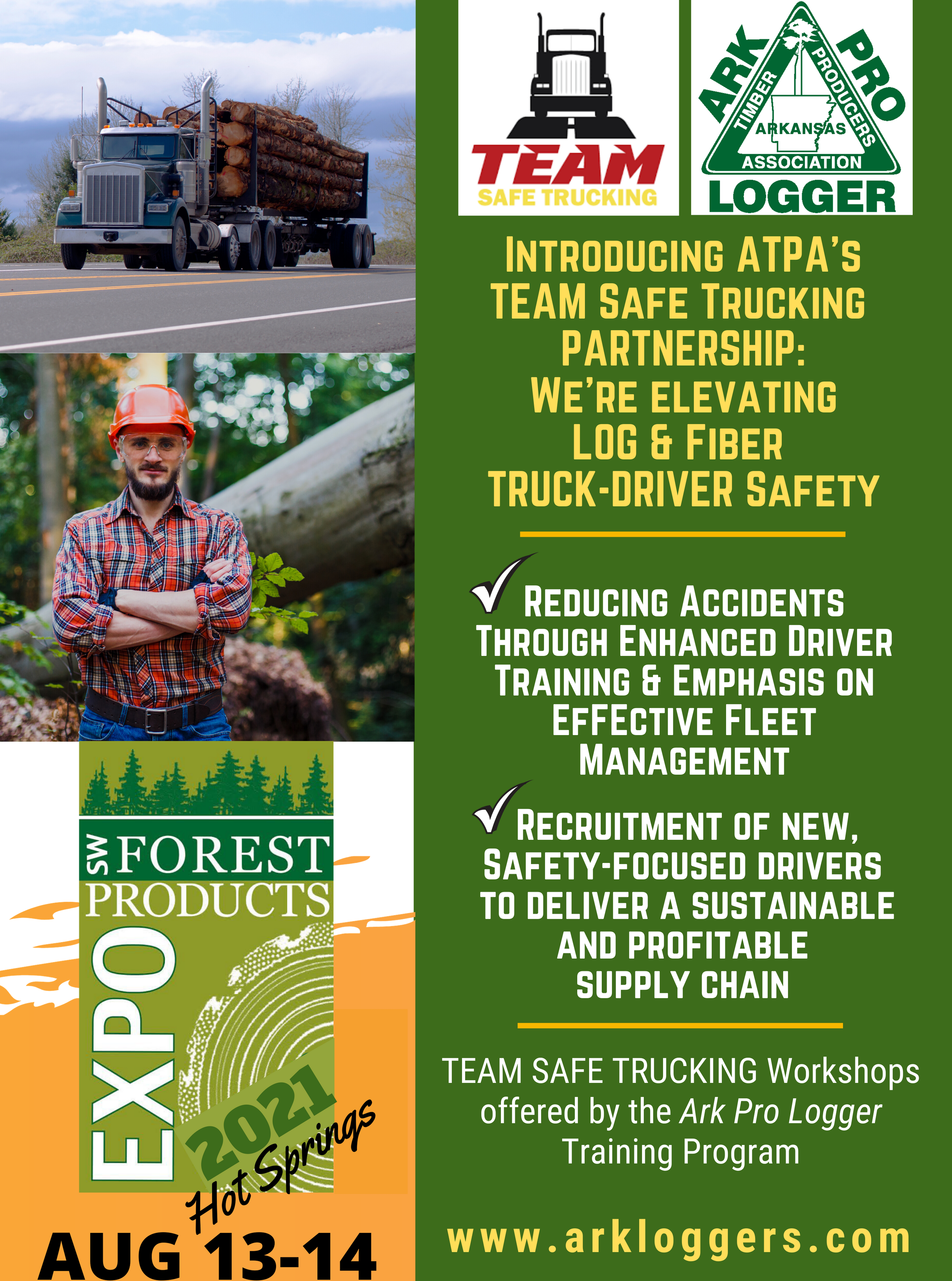 Southwest Forest Products Expo HUGE Success
ATPA held on August 23-24, 2019 its Southwest Forest Products Expo, an amazing indoor equipment and services showcase held regularly at the Hot Springs Civic and Convention Center.  Our show-floor was completely SOLD OUT! in terms of large-scale equipment exhibitors and vendors from across the country — all under one roof! Nearly 2400 attended the two-day 2019 EXPO, and exhibitors reported meeting new potential customers, productive conversations with existing clients, and an expanded network of potential business as our industry picks up in the state.
Exhibitors and Attendees Agree: This was our very best Southwest Forest Products Expo to Date!
View our footage from the 2019 Expo and Mark Your Calendar for 2021!
Coming to Hot Springs in 2021! 
AUGUST 13-14 
Take a look at our 2019 Southwest Forest Products Expo show footage captured by ARCOM Productions. 
Exhibitors of our 2019 show – THANK YOU!
AGAI
Alliance Tire Group
American Loggers Council
Arkansas Forestry Association
Arkansas Forestry Commission
Arkansas Highway Police
Arkansas Worker's Comp Commission
FEATURED: ARTISTRY IN WOOD! 
Ballantine
Bandit Industries, Inc.
Bitco Insurance Companies
BXS Insurance
Campbell & Company Insurance
Caterpillar Forest Products
Chambers Delimbinator
Crouse Truck Parts & Equipment
DelFab, Inc. – Phoenix DF703
Doggett Freightliner of Arkansas
Don's Hydraulics
Down River Cryogenics, LLC.
Edward Jones
Farm Credit
Fryfogle Manufacturing, Inc.
GCR Tires
Green Diamond Management Company
Hydrotex
Innovative Trailers, Inc.
InStock Parts
KNL Holdings, LLC-Peerless
Land Mark Spatial Solutions
Lone Star Truck Group
Lumbermen's Equipment Digest
Magnolia Trailers, Inc.
Manac Trailers, USA
Merchants & Planters Agency, Inc.
MHC Kenworth
MidSouth Forestry Equipment, LLC
Moore's Logging Supply
Morbark, LLC
Pate Enterprise
Peterbilt Truck Center, USA
PowerScreen Texas
Quadco USA, Inc.
Quality Petroleum, Inc.
Red River Specialities
Retif Oil & Fuel
River Ridge Equipment & Despino Tire
Rotobec, Inc.
Rush Truck Center
Smiths South Central Sales Company
Southern Tire Mart
Stribling Equipment
Suttle Equipment
Tucker's Truck, Inc.
UAM Forestry School
UT Health Science Center
Wallingford's Inc.
Weiler Forestry