That's right…our acclaimed Southwest Forest Products Expo was one of our best shows ever, and we'll be back in 2023 for another amazing showcase!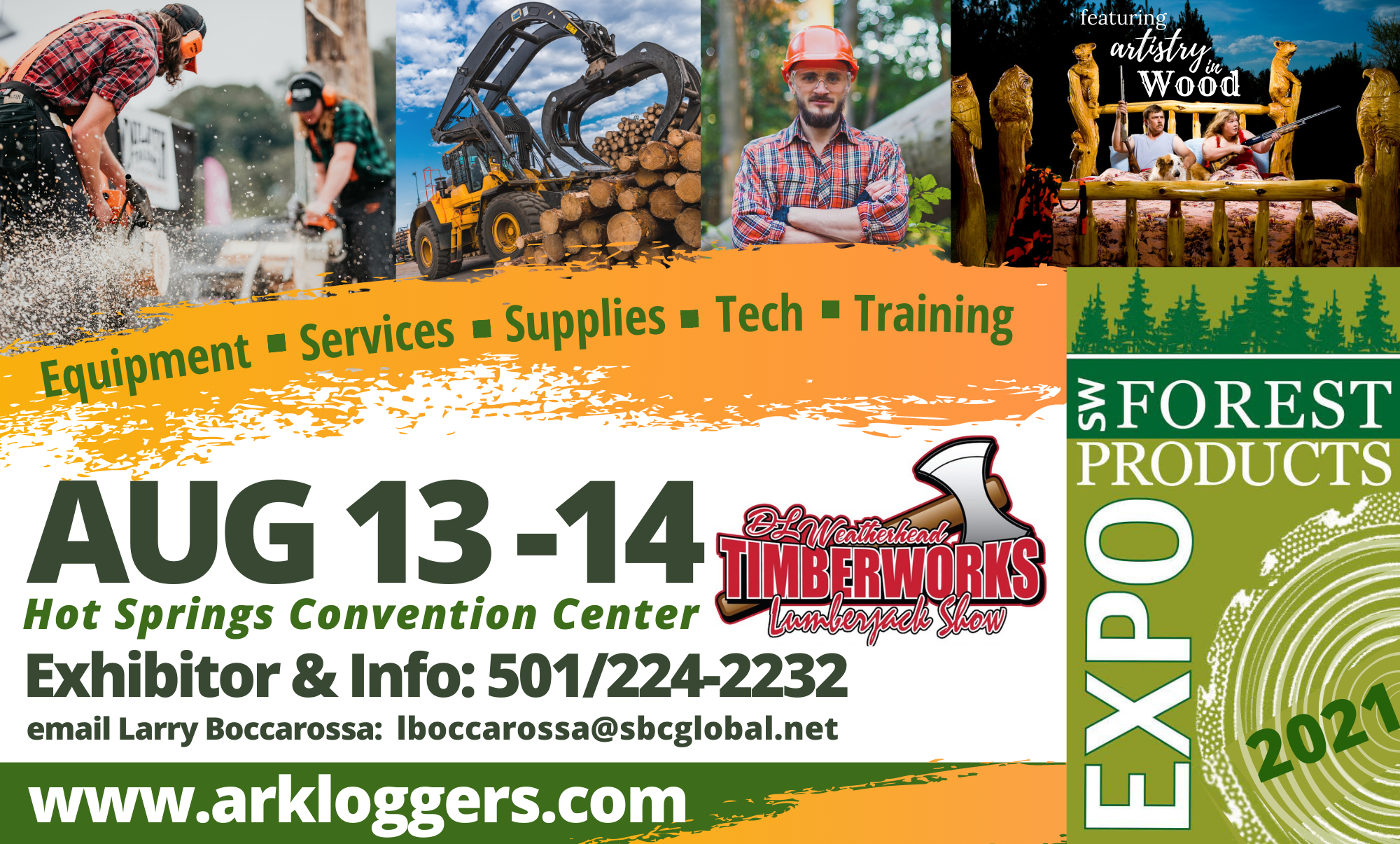 ATPA held its Southwest Forest Products Expo, an amazing indoor equipment and services showcase held regularly at the Hot Springs Civic and Convention Center.  Our show-floor was completely sold out in terms of large-scale equipment exhibitors and vendors from across the country — all under one roof! And we had special attractions this year, including the Timberworks Lumberjack Show, AND our popular Artistry in Wood carving exhibit, which drew participants from not only the entire state, but also the region.
View our footage from the 2019 Expo
Take a look at our 2019 Southwest Forest Products Expo show footage captured by ARCOM Productions. 
OUR SWFP Expo2021 exhibitors – THANK YOU!
AGAI
Alliance Tire Group
American Loggers Council
Arkansas 811
Arkansas Forestry Association
Arkansas Forestry Commission
Arkansas Highway Police
Arkansas Worker's Compensation
B-B-L Oil Company
BITCO
BXS Insurance
Campbell & Company
Chambers Delimbinator
Conklin Products Distributors
Crouse Truck Parts & Equipment
DelFab
Dobbs Peterbilt – Little Rock
Doggett Freightliners of Arkansas
Down River Cryogenics, LLC
Farm Credit Services of Western Arkansas
G & R Manufactured Solutions
Hotsy
Innovative Trailers, Inc.
J.B. Hunt Ag Services
KNL Holdings, LLC – Peerless Trailers
Land Mark Spatial Solutions
Lone Star Truck Group
Lumbermen's Equipment Digest
MHC Kenworth
Midsouth Forestry Equipment
Moore's Logging Supply
Morbark
North American Rescue
Pate Enterprise
Quadco USA, Inc.
Quality Petroleum
River Ridge Equipment & Despino Tire
Rotobec
Rush Truck Center
Schwab Brothers Hydraulics
Smiths South-Central Sales Company
Southern Tire Mart
Stribling Equipment
Suttle Equipment, Inc. & Don's Hydraulics
Tucker's Truck, Inc.
UT Health Science Center at Tyler

Wallingford's, Inc.

Whiting Systems, Inc.
WHAT ABOUT YOU? ADD YOUR NAME TO THIS LIST.
DOWNLOAD OUR EXHIBITOR PACKET TODAY!